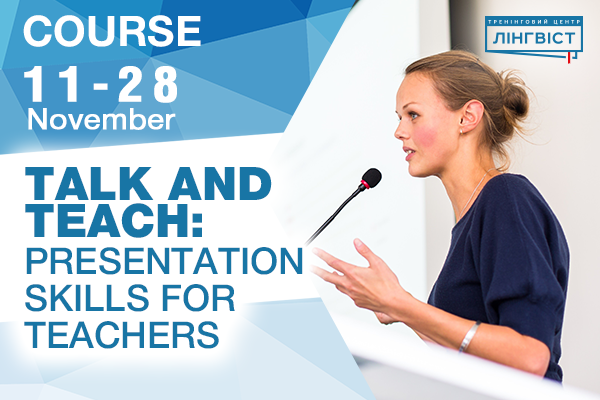 Boost your Public Speaking Skills. Create Dynamic Presentations. Impress your Learners.
What is it about?
In this course, you will learn how to make and present an engaging story in English, how to manage public presentations, as well as presentations online. You will get practical tips on how to structure your speech to keep the audience interested, how to use storytelling techniques, and get familiar with some acting basics for successful teaching.
Who is it for?
We all remember those teachers who were able to make the time flow fast during their lessons. How did they manage to keep our interest and motivate us for so long? If you want to explore this phenomenon from different angles (psychology, drama art, teaching, and linguistic points of view), your level of English is B1 and above – the course is for you.
Who is the speaker?
Tetiana Shelepko, ProEnglish Acting Coach, Theatre Director, EFL teacher, Cambridge University Press ELT Consultant. Tetiana used to work as an actress for 6 years, and 5 years as a theatre director, staged 7 full theatre performances, has been an acting coach for over 5 years, delivered thousands of talks, and dozens of webinars for different audiences as the Cambridge University Press ELT Consultant.
What's the program?
11 November – 28 November
Wednesdays 19:30 – 20:30
Saturdays 15:30 – 16:30
6 group sessions
4 assignments
1 final presentation
Course Outline:
Introduction to Public Speaking
How to structure the story. The basics of storytelling
How to work with the visuals in the story
Acting basics for public speaking
What kind of language to use
How to engage the audience and keep it interested
Final Presentations
What will I have in the end?
more confidence in public speaking in English
tips and takeaway activities to organise project work presentations in your classroom
skills in structuring your speech
tips on overcoming your fear of presenting in front of the audience
get a chance of facing all the challenges of public speaking
a lot of serious fun
Date: 11-28.11
Period:
– Wednesdays 19:30 – 20:30
– Saturdays 15:30 – 16:30
Price: 1 800 UAH
E-mail – Elena.Sukhova@linguist.ua, тел. +38 (067) 548-45-43